Upon intake, Ms. Frazier will perform a preliminary assessment, designed to address each client's personal abilities and identify injuries and body imbalances. These tests will determine how to realign posture, work with pre-existing injuries, improve joint mobility and reconnect the body's grounding system through balance/stabilization techniques. Physical and occupational therapists are consulted as part of a thorough risk factor screening in order to ensure a complete picture of clients' injuries.
For each program, Ms. Frazier can expertly coach you live on zoom, distance training outdoors, or when appropriate, in your home.
Click Here to view the list of Sharon's Programs
LIVE VIRTUAL CLASSES: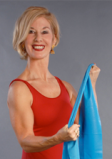 Live classes on Zoom, WebEx, Skype and other virtual platforms available to transform your body in record breaking time! We strive to inspire you by seamlessly blending Pilates, Yoga, Barre with Balls, Bands and Weights in the SF Method. A full range of guided therapeutic exercises are included to address musculoskeletal imbalances from past injuries. A live evaluation, corrections, feedback and progress tracking are included. We educate you with patience, empathy, diversity and provide a great experience to redesign your habits!
ReBOOT Virtual
13 Days of Intensive focus designed to reboot your body back to health! We connect all your weak links and go forward for you to lead your best healthy life!
ReSET Virtual
7 Consecutive days of workouts to immerse you in Total Change with a focus on positive visualization to jumpstart a New You!
YouTube Therapeutic Library
The SharonFrazierNYC YouTube Chanel offers a health support subscription for clients to stay on track. The full digital support system inspire, educate and encourage with empathy and relay feedback for faster recovery.
WORKSHOPS IN THE WORKPLACE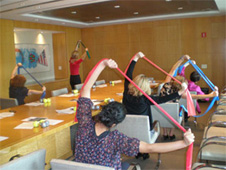 In different times, we offered office workshops held at lunchtime in the Conference room. Sharon and her team now offer live zoom for the entire office at home! The 30-minute "Morning Starts" or "Lunch Energizer" programs are the perfect break in a very stressful time. These small zoom breaks create happier and healthier employees.
Our exercise motivational team will engage your employees towards an optimistic attitude during these challenging times. The live zoom classes encourage laughter, health and fitness into their daily lives! These workshops are interactive, fun and informative. Choose from the following:
Stress Reduction Program
Back Care Intensive
Neck Care Intensive
Dynamic Work Stretches
15 Min. Band Workout
Work Nutrition
Home Office Yoga/Pilates
The workshops are followed by a Q & A section and exercise diagrams to help foster a permanent home office routine. Create a healthier zoom work environment for your employees today.
FOAM ROLLER PROGRAM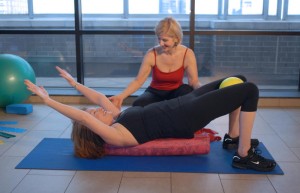 The neurofascial technique on the foam roller is a self-treatment program that prevents pain and heals injury. Rolling also eliminates stress and helps heal spinal dysfunction. Working on the foam roller dramatically influences the neuromuscular connection and activates the smaller stabilizer muscles promoting core and back strength. Ms. Frazier incorporates a variety of movements with this foam roller technique, including pilates, core fusion for abdominals, and bands & weighted balls for lifting resistance. The Rumble Roller is used for intense advanced Myofascial Release, along with tennis balls and other smaller release balls. Ms Frazier will expertly guide you on Zoom live or socially distanced classes.
RESISTANT BANDS AND WEIGHTED BALLS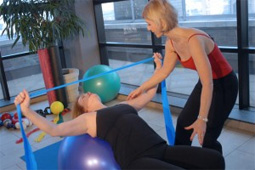 A variety of bands and weighted balls are used to increase muscle tone and add challenge to this section of your program. Free weights can also be added to develop the muscles in a therapeutic or strength building format. These exercise techniques can be taught on Zoom live or in a socially distanced class.
CORE FUSION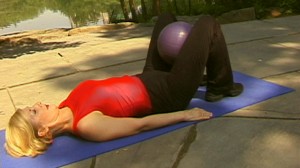 An intense section which blends abdominal and back strengthening exercises. Rehabilitation back exercises are seamlessly blended into this program. Each session is designed for developing core/back strength, with the exercises increasing in difficulty as you progress forward. The exercises are designed to alleviate low back pain, realign posture, and improve spine flexibility. Core Fusion can be taught on Zoom live or in a socially distanced class.
DUETS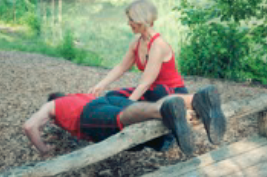 An advanced fusion program designed for two people at the same time and is socially distance appropriate. A zoom version can be used for the whole family! This includes intense fusion of Yoga, Pilates, Foam Roller, Ball Rolling, Core Fusion and Stretching in a more advanced format. This program changes in focus each session, creating a diverse and challenging workout.
CARDIOCARE CROSS-TRAINING OUTDOORS – SOCIALLY DISTANCED ACCEPTABLE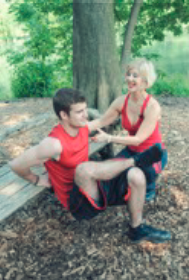 A complete CardioCare program  for fitness takes place in Central Park for heart health. A wide variety of methods are used in a safe format combining walk/light run, air ropes/jump ropes, bench push-ups, bands and all cross training methods full of fun!
Progress notes will be sent to your Doctor's upon request.
This complete CardioCare section is charted via a Heart Rate Monitor for each session with available printout graphs.

BARRE CLASS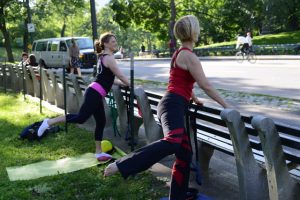 Lotte Berk Method Inspired and Core Fusion. One of the most effective ways to change your body lifting your derrière, toning your thighs, abs and arms. The small isometric movements at the bar, bench or a chair will tone your body with great stretching sections in between and final ab work. It's fun, effective and anyone can do it! The Lotte Berk Inspired exercises are blended with therapeutic elastic bands that can change your body in a few weeks!
BARRE classes are available on Zoom live and socially distanced in the park. Private In Home classes are available with mask, gloves and distance.
PRE-SPORTS CONDITIONING – SOCIALLY DISTANCED ACCEPTABLE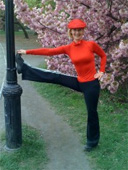 I have created a series of sports specific exercises for athletes and non-athletes, that is socially distanced appropriate outdoors. The sports include skiing, basketball, golf and competitive equestrian routines to help athletes prepare for their sport and protect them from injury. I work with clients before participating, competing or on vacation by developing a tailor-made program that addresses vulnerable areas and focuses on strengthening "weak links."
Clients are also provided with personalized in-home exercises to reinforce their progress as they stay active. This program will greatly improve performance and stamina during your sport. Available on Zoom live and socially distanced classes outdoors, when appropriate, in home classes will resume.
BACK CARE INTENSIVE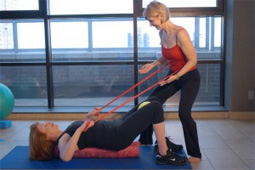 Sharon has developed exercises that combine various release techniques and create a healthy, flexible, and strong back. The Back Care Intensive program combines Active Release Muscle Stimulation,Trigger Point Therapy, Ball Rolling Release, Physical Therapy exercises, intensive PNF stretches, foam rollers and Yoga. At the end of each segment, intense ball rolling is used for the release of tight muscles .The program is carried out in slow stages in order to allow clients to safely graduate to each new exercise. Diverse exercises are combined to release and strengthen muscles, and to create a permanently pain-free back! Back Care intensive can be taught on zoom live or in socially distanced class.
NEUROMUSCULAR RELEASE / PNF PROGRAM: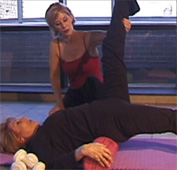 This program section incorporates Proprioceptive Neuromuscular Facilitation (PNF) by taking your stretching abilities to the next level. An isometric contraction (press/release) is used prior to the main stretch to achieve greater gains than just stretching alone. Dramatic gains in flexibility are possible in a short period of time with this technique due to the creative use of a few neurological mechanisms to optimize a muscles ability to lengthen. A client is capable of reaching new levels of flexibility with this press/release technique! Expert coaching and exacting corrections are possible on Zoom live to help you gain in flexibility as well as socially distanced classes.
BALANCE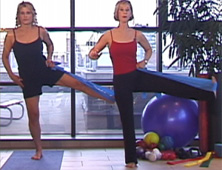 Conditioning, yoga, therapy and dance balance techniques are blended into this section to increase greater Right and Left awareness, improving the body's inner stabilization. This section realigns posture, improves joint mobility and reconnects the body's grounding system. Coaching on Zoom live or distanced classes are available to help increase better balance for all exercise performance.
BALL RELEASE PROGRAM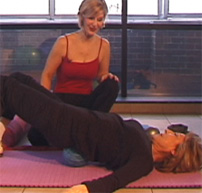 While rolling and lying on foam balls in a variety of positions, you encourage the spine to stretch and develop flexibility. Foam balls come in a variety of sizes and densities and can be strategically placed on the exact muscle or trigger point where you want release. The muscles along your spine are delicately massaged, creating balanced and healthy connective tissue. Ball rolling is a self treatment technique designed to rehydrate connective tissue and re-balance the nervous system. Rolling prevents pain and tightness in the muscles while encouraging greater flexibility. Expert guidance is also available on Zoom live to start your ball release program.
YOGA/PILATES FUSION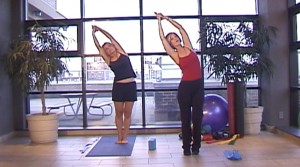 A fusion of yoga and pilates, or "yogalates", is used as a warm-up to promote spinal mobility, elongate the muscles, encourage flexibility and start your session. This warm-up is tailored to each person's ability and level. This warm-up is tailored  to each persons ability and is available on Zoom live classes and socially distanced classes.